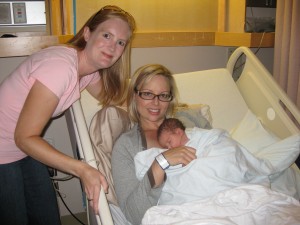 When helping moms who are struggling with breastfeeding, it can be very hard to resist the temptation to get right in there and help latch the baby on. It is important however for breastfeeding helpers, whether IBCLC, nurse, midwife, LLL Leader, peer counselor etc, to be hands off when it comes to helping mothers with breastfeeding.
The most important thing we can do when working with breastfeeding families, is to help empower the mother to believe in herself and her ability to feed her baby. If we latch the baby on for her, we take her power away. I've spoken to too many moms who say to me "It worked fine when the LC (midwife, nurse etc) was here, but now I can't get him latched on and I don't know what to do". How long is a mother going to breastfeed if she feels like she can only do it with someone beside her to help latch her baby on? What does that do to the mother's self-esteem? Many women feel like failures if breastfeeding doesn't work out, or they are having difficulties. "I can't even do something as natural as feed my own baby" (this is even worse if the mother is already feeling like a "failure" due to a birth that didn't go as planned). Breastfeeding help certainly should not be contributing to feelings such as these!
Hands on help can also cause other problems beside the damage it can cause to the mother's self-esteem and confidence. Babies who have been roughly handled at the breast ("The nurse grabbed his head and shoved him on there") can develop an aversion to nursing. This of course further erodes the mother's self confidence and many mothers take it personally, thinking things such as "he's pushing away so he must not like me". Babies who are latched on this way seldom have a good latch, and then you are also adding sore nipples into the mix which further decreases the chance that mom is going to continue breastfeeding.
Something else to consider is the effect that hands on help might have on a woman who is a survivor of sexual abuse. Breastfeeding can sometimes trigger strong reactions in survivors of abuse (it can also be very healing as well). Too many times I've heard or read the words "she just grabbed my breast and latched him on" and I cringe when I think about how extremely damaging that kind of "help" could be.
If you want to teach someone how to do something, you don't do it for them. You provide information, support and encouragement and allow them to work out the fine details for themselves. Mothers and babies already have all the instincts they need to breastfeed effectively, but these can sometimes be drowned out by our culture. Mothers need to be empowered to embrace their instincts. A skilled breastfeeding helper should be able to describe to a mother how to assist her baby to get a good latch. I find that my "teaching doll" (as my daughter calls her) is a wonderful tool because mothers learn by watching other mothers (a reason why it is a wonderful idea to attend La Leche League meetings while still pregnant, or while trying to refine latch and positioning). I use the doll to demonstrate positioning and latching technique. Rarely do I use my hands on mother or baby, other than occasionally supporting mom's movements as she latches her baby on herself.
So what can breastfeeding helpers and mothers do? To start with, breastfeeding helpers should sit on their hands if necessary! I know that the urge to latch a baby on comes from a feeling of wanting to help, but as I hope I've pointed out here, it can do more harm than good.
For moms, let your breastfeeding helpers know that all you need is instruction and demonstration, and that you want to be able to do it yourself. Don't be afraid to tell them "Hands off!".