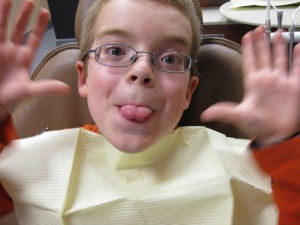 Tongue-Tie
A collection of excellent blog posts from Dr. Bobby Ghaheri MD
Is My Baby Tongue-tied? by Catherine Watson Genna
The significance of tongue and lip ties and why you should consider correcting them by Dr. Kotlow
Why does it hurt when I breastfeed? by Dr. Kotlow
Tongue-tie and the breastfed baby by Diana West
The Hidden Cause of Feeding Problems? from Milk Matters
Congenital Tongue-tie and it's Impact on Breastfeeding by Elizabeth Coryllos and Catherine Watson Genna
Articles and Presentations from Dr. Brian Palmer DDS
Clinical Pearl: The Murphy Maneuver for Diagnosing Tongue Tie from the Academy of Breastfeeding Medicine Blog
Diagnosis and Treatment of Newborn Nursing Difficulties Power Point by Dr. Kotlow
Suck Dysfunction and Tongue-tie from lowmilksupply.org
Tongue-tie and Breastfeeding by Catherine Watson Genna
Breastfeeding and Tongue-tie by Catherine Watson Genna and Elizabeth Coryllos
Tongue-tie from The Womanly Art of Breastfeeding 8th Ed
Info about tongue-tie and lip-tie and their association with infant reflux and colic from Dr. Kotlow
Examining for Posterior Tongue-Tie (video by Dr. Kotlow)
Swallow study of a baby with a posterior tongue-tie (video)
Laser frenotomy (video by Dr. Kotlow)
Video of laser frenotomy on a 10 year old boy
Laser Posterior Tongue-Tie Revision (video)
How does tongue-tie impact breastfeeding? A podcast interview with Catherine Watson Genna from Motherlove
Lip-tie
Why can't my baby breastfeed: The effects of an abnormal maxillary frenum attachment by Dr. Kotlow
Diagnosis and Treatment of the Maxillary Frenum Power Point by Dr. Kotlow (some nice before and after pictures here)
Introducing… the maxillary labial frenulum from The Funny-Shaped Woman
Care After Tongue and/or Lip-Tie Release
What to Expect After Tongue-Tie and Lip-Tie Release by Fleur Bickford
Care of Your Child After Tongue-Tie or Lip-Tie Release by Fleur Bickford and Beth McMillan
Care after lip and tongue-tie release (video by Dr. Kotlow)
Information about Breastfeeding and Complementary Therapies (most babies benefit from some form of bodywork after tongue/lip-tie release)
Mother's Stories
My 8 Year Old's Tongue-Tie (my personal story of my adventures with my son)
When Breastfeeding Doesn't Feel Right: A Tongue-Tie Tale (3 parts, make you sure you read them all!)
Trouble Breastfeeding? Look in Your Baby's Mouth from Mama Said
Lip-tie from Tempest Beauty
The Full Story from Metaphysical Mama
Posterior Tongue-tie Information from Metaphysical Mama (contains links to more mothers' stories)
Posterior Tongue-tie from Stand and Deliver
Lip Tie Q & A from The Mommypotomus
Journal Articles (most recent first)
The Effects of Office-Based Frenotomy for Anterior and Posterior Ankyloglossia on Breastfeeding (full text)
Management of Posterior Ankyloglossia using the Er,Cr:YSGG Laser (full text)
Efficacy of Neonatal Release of Ankyloglossia: A Randomized Trial (full text)
Diagnosis and treatment of ankyloglossia and tied maxillary fraenum in infants using Er:YAG and 1064 diode lasers (full text)
Tongue-tie and breastfeeding: A review of the literature
Tongue Tie and Frenotomy in the Breastfeeding Newborn (full text)
Ankyloglossia, Exclusive Breastfeeding and Failure to Thrive (full text)
The Influence of the Maxillary Frenum on the Development and Pattern of Dental Caries on Anterior Teeth in Breastfeeding Infants: Prevention, Diagnosis and Treatment (full text)
Posterior Ankyloglossia: A Case Report (full text)
Nipple pain at presentation predicts success of tongue-tie division for breastfeeding problems
Frenulotomy for Breastfeeding Infants with Ankyloglossia: Effect on Milk Removal and Sucking Mechanism as Imaged by Ultrasound (full text)
Tackling Ankyloglossia in the Office (full text)
Ankyloglossia in Breastfeeding Infants: The Effect of Frenotomy on Maternal Nipple Pain and Latch (full text)
Immediate nipple pain relief after frenotomy in breast-fed infants with ankyloglossia: A randomized, prospective study
Tongue-tie division in infants with breastfeeding difficulties
Randomized, controlled trial of division of tongue-tie in infants with feeding problems
Tongue Tie (full text)
Ankyloglossia: the adolescent and adult perspective
The effect of ankyloglossia on speech in children
Ankyloglossia: assessment, incidence and effect of frenuloplasty on the breastfeeding dyad (full text)
Breastfeeding Difficulties as a Result of Tight Lingual and Labial Frena: A Case Report (full text)
Resources for Professionals:
Tongue-Tie: Morphogenesis, Impact, Assessment and Treatment Book by Dr. Alison Hazelbaker
Video and info about using the Hazelbaker assessment tool
Excerpt from Supporting Sucking Skills by Catherine Watson Genna
Ankyloglossia Professional Support Group on Facebook
Please note that the information presented here is for educational purposes only and is not intended as medical advice. Please be sure to discuss your situation and treatment options with your own health care provider(s) in order to receive medical care that is suited to your individual needs. Inclusion of websites/articles on this page does not indicate an endorsement of the information found there.