Breastfeeding has taught me many things about being a mother, but I was thinking recently about what it taught my children. As I thought about it, I realized that it taught them much more than I realized at the time.
My son nursed until he was 5 months, at which time we weaned due to undiagnosed tongue tie that led to severe biting. Although it was a short time compared to the 3 years and 3 months that my daughter nursed, the many hours that we spent nursing taught my son that I was there for him and that his needs would be met. The skin-to-skin contact, my scent, the sound of my voice, along with my milk, all helped to nourish and grow his body and brain. My son learned that the world is a safe and wonderful place, and those emotional memories will be the place from which he approaches the world.
My daughter learned the same lessons as a young baby, and as a toddler, she learned many other lessons at the breast. My daughter learned to share at the breast. Little did I realize at the time that nursing all those stuffed animals, dolls and plastic toys was actually helping my daughter learn to share and wait her turn! My daughter learned to be gentle. The bruises and scratches on my arms from my daughter pinching me while nursing just couldn't continue, so I taught her nursing manners. Whenever she started to pinch, I would take her hand and stroke my arm with it while saying "gentle". When she started to bite I would say no biting, put her down and walk away for a moment. She would cry and then we would sit down again for her to nurse. She learned that there are limits on what we can do to each other, and that certain behaviours are not acceptable.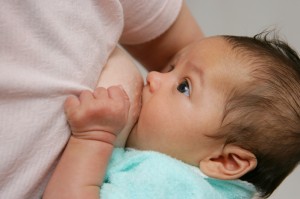 During those times of toddler nursing when I was feeling touched out and had to limit nursing for my own sanity, I would tell her "Mommy's going to sing the alphabet (or count to 10) and then we're done" My goal was to finish nursing as quickly as possible with as little fuss as possible, but during those trying times of me feeling touched out by a toddler who was nursing like a newborn again, my daughter learned the alphabet and how to count to 10.
During the wonderful, peaceful times that we had in the rocking chair as I was nursing her to sleep, I would sing to her. I am certainly no singer, but I sang because I had read that it could help to ease the transition to going to sleep without nursing. When she was ready, we gradually replaced nursing to sleep with just cuddles and songs. I was doing it to make things easier on myself and my husband, but I realize now that all of my singing helped my daughter to develop a love of music. My daughter is now 7 and my son is 9, and singing is still a part of our bedtime routine that all of us look forward to.
My daughter learned to be patient at the breast. As she got older and I became less comfortable nursing her in public, she sometimes had to wait to nurse. If I was feeling stressed, sometimes she had to wait for my milk to letdown. Although it may have been frustrating for her at times, those moments taught her that patience has its rewards.
At the time, as I dealt with the trials of a nursing toddler, I didn't realize that I was also teaching my daughter life lessons. Looking back I can see that there are many things that she learned during our time spent nursing, and I am thankful that simply putting her to breast taught her the most important lesson of all. She learned to trust. I was always there, ready and willing to nurse her whenever she needed to. Whether she was hungry or thirsty, hurt or scared, tired or overwhelmed, I was there to nurse her and help her feel better. She learned that she was safe and secure and that her needs would always be met. Because of that, she is a very adventurous, outgoing and social child. It is certainly possible to teach children the same thing without breastfeeding (as evidenced by the fact that my son is also securely attached, outgoing and adventurous) but nursing just makes the whole process so much easier. I really miss the days of being able to soothe a tantrum or settle my daughter to sleep just by nursing. It often felt like I wasn't doing anything other than sitting around all day, but looking back I can see that I was teaching my daughter some very important lessons, and laying a strong foundation from which she can fearlessly go out and meet the world, knowing that she has a safe place to come back to.