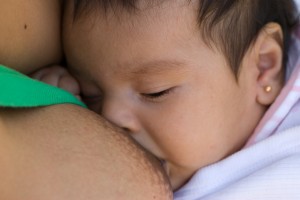 There are many common misconceptions about breastfeeding, and they often cause damage to the breastfeeding relationship. Here are some of the ones that are frequently held by parents and health care providers alike, and the truth behind them.
Myth: It's normal for breastfeeding to hurt. Truth: If breastfeeding  hurts something is wrong. Nursing may be a little uncomfortable during the early days as your body adjusts to a new sensation, but it should never be painful. Poor latch is the most common cause of pain in the early weeks, but there are other possibilities including sucking issues with baby from birth interventions or physical characteristics such as tongue-tie. If nursing hurts, get help as soon as possible. The earlier breastfeeding problems are addressed, the easier they are to fix. If you go to someone for help and the problem isn't solved, keep trying until you find someone with the knowledge and experience to help.
Myth: Moms with small breasts can't make enough milk. Truth: Breast size doesn't matter.  Milk production has nothing to do with breast size.  It's even possible for women with smaller breasts to have an oversupply of milk! Following your baby's lead and nursing whenever your baby cues to feed will help to ensure adequate production of milk.
Myth: Many moms can't produce enough milk. Truth: The vast majority of mothers can make more than enough milk for their baby (or babies!). It is estimated that only 2-5% (some believe this number is lower, closer to 1-2%) of women are truly unable to produce enough milk for their baby. Our species never would have survived if we weren't able to provide for our young. Low milk production is usually the result of not enough stimulation of the breast from nursing or pumping.
Myth: There is no milk in the first few days. Truth: Colostrum *is* breastmilk! The small amounts are perfect for a new baby's tiny stomach. Newborn stomach capacity: Day one 9-10ml (1/3 oz), day three 22-27ml (3/4-1 oz), day 10 60-81ml (2-2.5 oz).
Myth: Babies usually nurse every 3-4 hours. Truth: Babies often need to eat every 2 hrs or less. Babies have small stomachs and breastmilk is digested quickly. This is not a flaw in nature's design, babies need to be held and interacted with frequently to aid in the development of  their brains. Frequent feedings help to ensure this!
Myth: Night feedings aren't important. Truth: Prolactin levels (the hormone responsible for milk production) are highest at night, so those night feedings (or pumping sessions)  are important for milk production.
Myth: Breastfeeding mothers get less sleep. Truth: Recent research has shown that breastfeeding mothers get more sleep, and enjoy better quality sleep, than formula feeding mothers do. Another recent study found no difference in the amount of sleep that breastfeeding and formula feeding mothers get.  Giving formula at night to try to get more rest doesn't work (and may make things worse if your baby doesn't react well to the formula), and missing night time nursing sessions can have a negative impact on your milk production.
Myth: Breasts need time to fill up between feedings. Truth: Your breasts are continually making milk as your baby drinks. You don't need to wait a certain amount of time before putting your baby back to breast.
Myth: There is no way to tell how much baby is getting. Truth: To know whether or not your baby is getting enough breastmilk, look at your baby! If your baby is gaining weight, having plenty of wet and dirty diapers, is content after feedings, meeting developmental milestones, outgrowing clothes and diapers etc, then he's getting everything he needs.
Myth: If your breasts feel soft you don't have enough milk. Truth: Many women worry that they don't have enough milk if their breasts are soft, or they can't feel their milk "let-down".  After the early weeks, your body adjusts to your baby's needs, and the full feeling that you may have experienced early on disappears. This does not mean that you don't have enough milk, it simply means that your milk production is in sync with your baby's needs. Being able to feel your milk let down is also not an indicator of milk production. Many women never feel their milk let down.
Myth: If your baby is nursing frequently, he's just using you as a pacifier. Truth: Breasts are the original pacifier! Babies don't nurse just for food. This often comes as a surprise to parents, but babies go to the breast for many reasons. They're hungry, thirsty, tired, hurt, overstimulated, bored, lonely, in the mood for cuddles, etc. All are equally valid reasons to nurse. Believing that babies only nurse because they are hungry can lead to problems if parents try to hold off feedings because "he can't be hungry he just ate!". I'm sure most of us have heard someone say "Don't let your baby use you as a pacifier. My response to this is "I'm not pacifying, I'm mothering!" Pacifiers were invented to allow babies to satisfy their sucking needs when mom is not available, not the other way around. Mothers are not meant to nurse their babies only when a pacifier isn't available.
Myth: Frequent nursing and holding will spoil your baby, make him too dependent etc. Truth: Research tells us that babies who are held and nursed frequently, actually go on to be very outgoing and adventurous children. Babies' first relationships set the tone for all future relationships in life. By responding to our babies' needs quickly, consistently and with love, we teach our children that the world is a safe and wonderful place. This gives them the courage to go out and explore because they know that they have a safe and loving place to return to.
Myth: If you let your baby fall asleep at the breast, he'll never learn to go to sleep on his own. Truth: All children eventually learn to settle themselves to sleep. Babies fall asleep at the breast because nature designed it that way. Nursing is a peaceful and easy way to help our babies and young children settle to sleep during a time when they do not yet have the ability to self soothe.
Myth: pumping shows how much milk you have. Truth: The amount you are able to pump is not a good indicator of milk production. Many moms don't respond well to pump, and a baby who is able to nurse effectively is far more efficient than any pump.
Myth: You have to drink milk to make milk. Truth: Cow's milk is not a necessary component of anyone's diet. We are the only mammals who drink milk past the time of natural weaning and yet every other mammal manages to produce milk for their young.
Myth: Eating gassy foods will make your baby gassy/breastfeeding moms have to be careful about what they eat/drink. Truth: Breastmilk is made from what's in your bloodstream not your stomach. Most babies have no trouble with "gassy" or "spicy" foods, caffeine etc. Everything in moderation unless your baby's behaviour is telling you otherwise. There is no need to unnecessarily limit your diet.
Myth: You can't breastfeed if you're taking medication. Truth: Most medications can be safely taken while breastfeeding. If you have questions about medications and breastfeeding, make sure you have accurate information by calling an IBCLC or the Infant Risk Centre.
Myth: you have to pump & dump after having x-rays, a CT scan or an MRI. Truth: Most scans (even those that use contrast dye) are safe while breastfeeding. Scans using radioactive isotopes are usually the only ones that require a temporary cessation of breastfeeding. If you have questions, check with an IBCLC or call the Infant Risk Centre for more information.
Myth: If you don't have enough milk with your first baby, it will be the same with your next baby so there's no sense in trying. Truth: Breasts usually develop more glandular tissue with each pregnancy, so if you didn't have enough milk with a previous baby, that may not be the case with your next one. Also, most cases of low supply are due to not enough stimulation of your breasts through either nursing or pumping in the early weeks, so arm yourself with good information and support as you prepare for your next baby.
Myth: foremilk-hindmilk imbalance is a common problem. Truth: True foremilk-hindmilk imbalance is rare, and usually only happens in cases of oversupply of milk or timed feedings. Many parents are concerned about their baby getting the fatty "hindmilk", but all breastmilk has some fat in it. When looking at fat intake, one feeding is not important. What is important is the fat intake over 24 hours. Fat content of breastmilk naturally varies throughout a feeding, and throughout a day. The emptier your breast is, the higher the fat content. So early in the day when milk volume tends to be higher, fat content will naturally be lower. Later in the day when milk volume is naturally lower, the fat content will higher. If you follow your baby's cues and nurse your baby whenever he is looking for the breast, your baby will get what he needs.
Myth: Once your child gets teeth, can talk etc it's time to stop nursing. Truth: According to anthropological research, the natural age of weaning for humans is between 2.5-7 years of age. Breastfeeding can and should continue for as long as is mutually desired.
Myth: Breastmilk is a dairy product. Truth: You're not a cow! Breastmilk is considered a clear fluid.
Myth: Formula is just as good as breastmilk. Truth: Breastmilk is the biological norm for our species. It is a complex and living substance that scientists are still trying to unravel. Breastmilk has over 300 ingredients including white cells, antibacterial and antiviral agents etc. Formula has only 40 (non-living) ingredients.
Myth: After x number of months, breastmilk has no nutritional value. Truth: Breastmilk does not suddenly turn to water just because your baby has reached a certain age. Breastmilk continues to have fat, protein, carbohydrates, vitamin and minerals, antibodies etc, for as long as your child is nursing.
Myth: Doctors and nurses know a lot about breastfeeding. Truth: Most doctors and nurses (including pediatricians) have little to no education about breastfeeding (unless they pursue it on their own) as it is not part of their curriculum in school. If you need information about breastfeeding, call someone knowledgeable such as an IBCLC, La Leche League Leader or breastfeeding peer counsellor.
Myth: many mothers give up on breastfeeding too easily. Truth: Most moms want to breastfeed. Breastfeeding initiation rates are high, but the numbers of women exclusively breastfeeding drop off dramatically in the first month. Most moms run into problems and eventually switch to formula feeding due to  lack of accurate info and a lack of support.
Myth: breastfeeding is easy. Truth: Breastfeeding is natural, but in today's culture it is often not easy. Mothers don't fail at breastfeeding, society does. In a society where doctors and nurses have little to no training in breastfeeding and are frequently handing out harmful advice, where birth interventions that interfere with breastfeeding are the norm, formula marketing is rampant and mothers are made to feel ashamed to nurse their babies in public, it's amazing that any woman manages to meet her breastfeeding goals. You can even the odds by educating yourself and establishing a support network. We are not meant to breastfeed or parent in isolation, so don't be afraid to ask to for help!